What Are Those Black Streaks?
The primary species of algae being observed is called Gloeocapsa Magma. This type of algae is contained in and transported through the air, and tends to collect and grow upon roofing structures. Natural pigments produced by this algae may cause a white or light colored roof to gradually turn brown or black.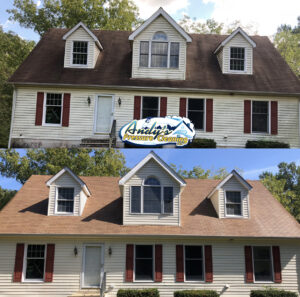 The algae discolorations should not be confused with moss or tree droppings, which typically produce only localized discolorations. Besides looking bad, this algae also feeds on the limestone filler in your shingles. It is literally eating away at your roof.
Allow Andy's Pressure Cleaning LLC to provide you with roof cleaning for your home. It can be quite dangerous for you to clean your own roof. An inexperienced person who tries to clean a roof may cause permanent damage to it. Our friendly and knowledgeable employees are trained to treat your roof stains in safe manner without damaging your roof. We are your roof cleaning experts.
We know the causes for stains on your roof and the best way to treat them. We use the proper equipment and materials to give your roof the best shine. Our materials are all biodegradable and environmentally safe. Call us today at 302-563-4645 in order to get your free quote on roof cleaning today.
Much like the exterior of homes, roofs are certainly susceptible to mold spores landing on them and spreading until the entire roof is covered in black streaks and stains. Our low-pressure roof cleaning methods will treat and kill every mold spore on the roof without damaging the roof shingles. Your roof will be restored to its original state and prevent you from having to buy a new roof. Thus, saving you potentially thousands of dollars. Request Free Estimate